CIO Experience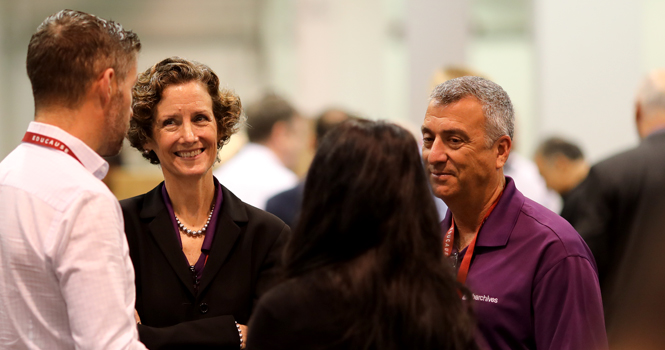 Empower Transformation, Drive Innovation
The CIO Experience brings together hundreds of CIOs and leadership aspirants from around the world who represent all types and sizes of colleges and universities. These leaders share a passion for engaging with the community and contributing to a better understanding of the strategic role of technology in higher education.
At the EDUCAUSE Annual Conference, CIOs create connections and focus on the future. Together we inspire each other to lead change, empower transformation, and drive innovation.
Discuss top IT issues and strategic technologies at the CIO Constituent Group Meeting.
Contribute to the understanding of IT's role in institutional change during small-group conversations.
Increase your opportunities for advancement with complimentary career coaching.
Expand your network in the CIO Lounge.
Sharpen IT leadership skills at the Hawkins Leadership Roundtable—for new CIOs and those actively seeking the CIO role (limited seating and separate registration/fee required).
Transcend your focus on day-to-day operations and learn how you can drive institution-wide innovation during the Diana G. Oblinger Innovation Forum.
Share your unmet needs in teaching and learning and student services and help shape the future corporate market for higher ed by participating in The Pitch IT! Challenge.
Program Highlights
Diana G. Oblinger Innovation Forum
This event brings together IT and academic affairs leaders to examine the complex intersection of academic transformation and student success technologies—where leadership and data can power institutional change. Learn More >
Hawkins Leadership Roundtable
This roundtable convenes new CIOs and those actively seeking their first CIO role to focus on high-level IT questions, discuss important IT leadership issues, and engage in intensive networking with peers and experienced CIOs. Learn More >
The Pitch IT! Challenge
What is the biggest challenge your institution is facing? Senior leaders in academic and IT roles are invited to pitch their biggest technology-driven issue to the EDUCAUSE community. Participate and you'll get the opportunity to collaborate with corporate partners that are ready to help craft your solution. (Coming Soon)
CIO Career Coaching
Complimentary and confidential one-on-one career advice meetings with executive search firm representatives will be available to higher education CIOs and CIO aspirants registered for EDUCAUSE 2017. (Coming Soon)
Executive-Level Discussions
CIOs are encouraged to kick off the conference with the CIO Constituent Group Discussion Session on Tuesday. The EDUCAUSE Annual Conference program committee also recommends the following executive-level sessions that enable CIOs and CIO aspirants to discuss key themes with featured speakers. (Coming Soon)