Southeast Regional Conference
Who Attended?
Higher education professionals who use information technology in any aspect of their daily responsibilities.
About the Conference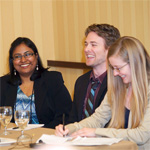 The EDUCAUSE Southeast Regional Conference was held May 30–June 1, 2012, in Tampa, Florida.
Higher education information technology is never stagnant. Critical to its progress is the continuous evolution of technologies, relationships, and communities through collaboration and engagement within the higher education IT community. This event's program was built on strategies and support that engage across campus, with local communities, and within and across disciplinary and global boundaries.
Browse the print program to see what innovative and practical ideas were presented, and what hot topics were discussed. Be inspired to see the bigger picture and share your perspective on campus.