Monday, July 09 | 1:00PM–2:00PM
ELI Webinar | Iterative Design for Learning: Using Design Research and Prototyping to Innovate and Support Learning
Special Guest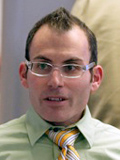 Alan Foley
Associate Professor of Instructional Design, Development and Evaluation
Syracuse University
Alan Foley is an Associate Professor of Instructional Design, Development and Evaluation at Syracuse University. His research focuses on implementing design research techniques to create innovative learning technologies that are accessible and usable for all learners. This work builds on his interest and experience in various forms of design (i.e. instructional, web, universal, interaction); web accessibility/usability and product evaluation research; and technology development (i.e. web and mobile). Alan's teaching areas include design-based research, educational multimedia, and web/media accessibility/usability. In addition to his scholarly work, he has co-authored a book on dynamic website development, and contributed chapters on web accessibility for technical books. He has authored numerous white papers and technical reports on instructional technology and assistive technology.
Summary
Join Malcolm Brown, EDUCAUSE Learning Initiative director, and Veronica Diaz, ELI associate director, as they moderate this webinar with Dr. Alan Foley. Alan will discuss the evolution of design research and how design research projects have been demonstrating the potential to innovate and support learning and to advance theoretical understandings of learning while also creating tangible learning environments. In this session Alan will illustrate how design research techniques including prototyping can be used in the development of instructional approaches, course design, and learning technology.
technical requirements
You must have an Internet connection and be able to access Adobe Connect. Please see the technical requirements page to learn more.
If you have problems completing the test or installing required software, please visit the Adobe Support web site, or call Adobe Connect Technical Support at 1-800-945-9120.
If you have audio or video issues during the event, please see our Adobe Connect Frequently Asked Questions page. If you need further assistance, please contact a meeting host using the virtual room chat pod.