Monday, August 13 | 1:00PM–2:00PM
ELI Webinar | Learning Analytics and the Learning Sciences
Special Guest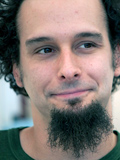 Zachary Stein
doctoral candidate in Mind, Brain, and Education at Harvard University and Deputy Director of the Developmental Testing Service
Harvard University
Zachary Stein is a doctoral candidate in Mind, Brain, and Education at Harvard University and deputy director of the Developmental Testing Service (DTS). He has published on topics in the philosophy of education, cognitive development, educational neuroscience, and theoretical psychometrics. He is also an award-winning presenter and workshop facilitator. His current philosophical research focuses on ethical issues involved with large-scale standardized testing infrastructures, while his empirical and applied work at DTS centers on building an alternative learning science based testing infrastructure for use in K–16 contexts.
Summary
Join the EDUCAUSE Learning Initiative's Malcolm Brown, director, and Veronica Diaz, associate director, as they moderate this webinar with Zachary Stein, doctoral candidate in Mind, Brain, and Education at Harvard University and Deputy Director of the Developmental Testing Service.
This webinar will explore connections between the emerging field of learning analytics and the contemporary learning sciences, specifically, the fields of cognitive developmental psychology and mind, brain, and education. A review of contemporary theories of learning reveals that many existing examples of learning analytics are built around indexes of student behavior that are distally related to student learning. Stein will argue that trends toward leveraging automation and economies of scale could shape learning analytics into a field that employs strategies for monitoring students that are divorced from insights into how students learn. He will then propose that learning analytics would benefit from integrating proximal indexes of student learning and describe a candidate set of measures, lectical assessments. Several action-research projects that integrate lectical assessments into graduate-level classes, leadership development programs, and one-on-one counseling and coaching contexts. These examples demonstrate the diagnostic, pedagogical, and research value of learning-analytic projects that directly measure learning.
Additional Resources
technical requirements
You must have an Internet connection and be able to access Adobe Connect. Please see the technical requirements page to learn more.
If you have problems completing the test or installing required software, please visit the Adobe Support web site, or call Adobe Connect Technical Support at 1-800-945-9120.
If you have audio or video issues during the event, please see our Adobe Connect Frequently Asked Questions page. If you need further assistance, please contact a meeting host using the virtual room chat pod.