Enterprise IT Leadership Conference 2012
Who Attended?
This thought-leadership conference was designed for college and university CIOs and senior leaders of enterprise IT and administrative systems, and IT managers aspiring to a leadership role.
About the Conference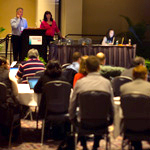 If you are responsible for leading enterprise/administrative information technology at your institution, this is the conference for you.
Intentionally designed and sized for interactive discussion, the Enterprise IT Leadership Conference, May 16–18, 2012, at the JW Marriott Indianapolis, is a unique opportunity to bring campus enterprise-wide challenges to the table for discussion, feedback, and collaborative problem solving with leading college and university CIOs and senior IT leaders.
Leaders brought strategies, ideas, challenges, solutions (whether successful or not), and questions to sessions that addressed leadership, IT service and systems management, institutional strategic planning and technology, governance and data-driven decisions, and corporate and campus solutions.
Browse the agenda to see what innovative and practical ideas were presented, and what hot topics were discussed. Be inspired to see the bigger picture and share your perspective on campus.