Security Professionals Conference 2012
Who Attended?
Security staff, IT staff, privacy officers, and others from the higher education community with an interest in security or privacy.
About the Conference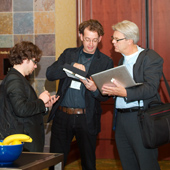 As the breadth of technology expands globally, so do the boundaries of information security. The 10th annual Security Professionals Conference, held May 15-17, at the JW Marriott Indianapolis and online, attempted to recalibrate security during a paradigm shift.
Our institutional data resides in environments where borders continue to dissolve. Constant accessibility and portability have become commonplace for employees and students. This means that:
Data resides on a diverse array of personal and enterprise devices
Global and instantaneous information sharing are readily available
Attacks and malware now focus on every facet of our environment
Browse the face-to-face and online agendas to see what innovative and practical ideas were presented, and what hot topics were discussed. Be inspired to see the bigger picture and apply new ideas on campus.