Strategies for Advancing Women's Leadership
April 6, 11, 18 and 25, 2023
Online
Event Description
Join us for the Strategies for Advancing Women's Leadership event, part of the EDUCAUSE Leadership Series. This event will take place over four weeks, with various opportunities to engage in synchronous, asynchronous and collaborative learning. EDUCAUSE is excited to welcome Aimée V. Sanchez as our lead facilitator. During the event, participants will explore the following topics:
Women on the Move: Positioning for Your Next Level
How Women Can Elevate Influence and Maximize Their Leadership Impact
Leveraging the 5 Superpowers of Successful Women Leaders
Throughout, participants will meet, share with, and learn from a cohort of higher education professionals and leaders for networking and conversation.
Outcomes:
Through the active and engaged structure of Strategies for Advancing Women's Leadership, participants will:
Reflect, synthesize, and network, while discussing key issues with experts in the field
Develop relationships with others for ongoing conversation and ideation as they progress along their professional pathways
EDUCAUSE members can participate in one-on-one mentoring on our Connect platform.
Lead Facilitator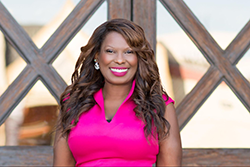 Dr. Aimée V. Sanchez, Ph.D.
Neuropsychologist, Organizational Consultant, and Executive Coach
Dr. Sanchez is a leadership expert on neuroscience, resilience, power, and advancement for women in the workplace. She specializes in supporting executive women who want to lead with next-level influence, realize their true potential, and exceed their business and professional goals. Her work with organizations includes providing high-impact coaching and leadership development to executive female talent and supporting business leaders to help them identify how to best create inclusive cultures designed to help women thrive and further advance the bottom line. In more than 20 years of implementing her own unique corporate success strategies, she has helped high-performing leaders and teams gain the tools and strategies needed to improve communication, eliminate blocks to performance, and build influence across their organizations. She is also an award-winning author and accomplished international speaker, and her work with organizations has been featured on major media outlets.