Programs and Tracks
The Security Professionals Conference Online will feature just-in-time content to help higher education information security and privacy professionals address the current challenges facing their institutions.
This year's theme is Reaching for the Summit. Just like a mountain climber, an information security or privacy professional must have patience, discipline, determination, problem-solving skills, and perseverance. Both activities are often presented with challenging circumstances and conditions that are constantly changing or evolving. These dynamic environments require tactical and strategic planning, innovative tools and technologies, as well as diverse, resilient teams with different skills, backgrounds, and knowledge.
Did you miss the live event? You can still gain access to the recorded sessions, on demand content, virtual corporate exhibits, and more. Register to gain full on-demand access for one year.
Event Schedule
The event will be held online June 2–4, 2020.
Tuesday, June 2 | 12:00–4:45 p.m. ET
Wednesday, June 3 |

Live Networking & On Demand Day

Thursday, June 4 | 12:00–4:45 p.m ET
Explore the online agenda for live sessions and on-demand content.
General Session Presenter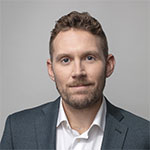 Charlie Warzel, Writer At Large, The New York Times
One Nation, Tracked: How to Navigate Our Great Privacy Reckoning
Privacy, like climate change, is too big to understand. It touches every aspect of our lives. But at its heart, privacy is about how data is used to take away our control. New York Times opinion writer Charlie Warzel will unpack the Times's groundbreaking Privacy Project reporting and explain what we lost in the last decade and how we can get back control.
Event Highlights
General Session: The original general session speaker, Charlie Warzel will deliver the session, One Nation, Tracked: How to Navigate Our Great Privacy Reckoning.
Live Sessions: The live event will include interactive, live presentations on the current issues and future trends in higher education information security and privacy.
On-Demand Content: Much of the 2020 Security Professionals Conference session content will be updated to reflect the current challenges institutions are facing. The sessions will be available on an on-demand basis and in a variety of formats so you can stay up-to-date on higher education security and privacy issues at your convenience.

Corporate Exhibits: Visit virtual exhibits and talk with innovative solution providers online.
Virtual Braindates: You'll be able to connect with colleagues to discuss, share, and find out how others are meeting today's and tomorrow's challenges. Learn more.
Mental Health & Wellness: Discover educational resources and learn more about Mental Health Hackers.
Gain access to the to the recorded sessions, on-demand content, and virtual corporate exhibits for one year. Register→
2020 Security Professionals Conference Tracks
Awareness and Education
Awareness, training, education, and communications are key components of successful information security and privacy programs. How do we build mature (and replicable) security and privacy awareness programs that help educate faculty, staff, and students?
Governance, Risk, and Compliance (GRC)
Governance, risk, and compliance (GRC) issues increasingly pervade higher education information technology. This track will provide examples for the leadership, organization, and operation of an institution's GRC programs.
Identity Management
How is your campus approaching the establishment of user identities and enforcing rules about access to digital resources? This track will explore two-factor authentication (2FA), multifactor authentication (MFA), and single sign-on trends and solutions for managing and securing identities.
Incident Management and Response
No matter the extent of our defenses, it is inevitable that information security incidents will occur. For this reason, establishing, periodically assessing, and continually improving incident management processes and capabilities are very important to our community.
Leadership
Today's information security and privacy leaders must be resilient and visionary. To thrive in today's fast-paced environment, leaders at all levels of the organization, from the CISO or CPO to the analyst or engineer, must embrace everyday challenges while strategically planning for the future.
Privacy
This track focuses on privacy issues and challenges in higher education. Topics include the intersection of IT, security, and privacy, as well as privacy issues related to ethics, surveillance, analytics, big data, compliance, policies, and the Internet of Things.
Security Operations and Architecture
Share practices that your campus is using to prevent, detect, assess, monitor, and respond to cybersecurity threats and incidents. Or share architecture strategies for information security controls and safeguards that are being implemented to protect the confidentiality, integrity, and availability of institutional data.