Corporate Participation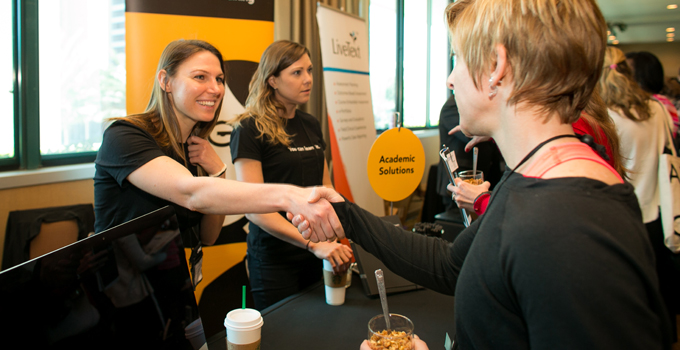 The ELI Annual Meeting is the place to network with over 600 leading teaching and learning professionals.
The ELI Annual Meeting offers companies a prime opportunity to gain brand exposure and connect with leaders in the teaching and learning community who are interested in innovative technology solutions and significantly influence the direction of campus technology and programs at colleges and universities nationwide.

2017 Corporate Opportunities
Opportunities exist for thought leadership, networking, branding and more. Contact the EDUCAUSE Corporate Relations Team to develop a comprehensive plan to get the most interaction with this targeted audience.
Corporate and Campus Solutions Presentations
Sold
Present in collaboration with a current higher education client during a conference session. Articulate the issue, discuss the opportunity, and highlight how your implemented solution addressed the institution's need.
$2,200 members
$2,600 nonmembers
Corporate Displays
Exhibit for two days in a high-traffic conference area. Network with participants, get feedback on your product and service, and engage in deeper dialog about the opportunities you offer. EDUCAUSE provides a six foot table, wireless access, and basic electricity (10 available spots).
$2,300 members
$2,600 nonmembers
Focus Group
Gain valuable feedback from leading teaching and learning professionals about a new idea, product or service. This engaging 45-minute session will provide valuable R&D for your company, as well as give your company the opportunity to make new connections with campus leaders and decision makers.
$2,200 members
$2,600 nonmembers
Sponsorships
Expand visibility and engagement by sponsoring one of the following conference opportunities.
Conference Sessions and Functions
Leadership Seminar: $2,200. This seminar is designed for senior campus leaders with technology experience, academic backgrounds, instructional and media design, as well as program planning and evaluation. This interactive seminar will engage participants in a series of activities based on new and novel approaches to instigating academic transformation. Sponsorship includes recognition in the preconference primer and during the five hours of programming at the conference, with an opportunity to address the audience.
Featured Speaker Track: $5,000

Sold

. Sponsor a day's worth of distinguished featured speakers/ addressing key issues facing higher education professionals. Well attended, sponsor's association with these sessions will provide high visibility to a large portion of the attendees throughout the day via the print, online and mobile agenda, signage, a table for display and a full conference registration.
General session: $2,000. Includes sponsor recognition from the stage and collateral distribution
Conference Lunch: $1,750. Includes collateral distribution by sponsor
Meet-Up Reception: $6,200 members/nonmembers. Includes room, light snack, and 100 drink tickets. Be one of three companies to host a 90-minute meet-up, complete with savory snacks and drinks. Your company can choose to brand your room and/or provide informal programming. This will be a great time for you to network in a relaxed setting with conference attendees and make valuable connections.
Conference Materials
Tote bags:

Sold

Notepads/Pens: $1,500 (sponsor provides both for the tote area)
Print Program: $1,750 (color ad, outside back cover); $1,200 (color ad, inside back cover)
Hotel Room Keys: $1,200 (plus production fees)
Hotel Door Drop: $1,200 (plus hotel fee)
Sponsor benefits include:
Sponsor mention in preconference marketing efforts to thousands of potential attendees
Company logo and directory listing on the meeting website and in the print program
Opportunity for a preconference direct mailing to registered attendees (no e-mail)
Recognition in the online agenda (for sponsored conference functions)
One complimentary registration for attendance to all sessions and functions
Recognition in general session walk in slides
Contact the EDUCAUSE Corporate Relations Team for more information about all of the sponsorship opportunities available during the 2017 ELI Annual Meeting.