Inclusion and Accessibility
EDUCAUSE strives to hold meetings, conferences, and other professional events where all attendees feel welcome and barriers of any type do not exclude people from attending or participating. EDUCAUSE recognizes that long-term and lasting progress on this front will require time, sustained effort, and the cumulative impact of incremental and individual actions.
If you have any questions about our policies, or need special accommodations, please email [email protected] for assistance.
---
Hearing Impairments
Closed Captioning
Philadelphia Onsite Experience: the General and Featured Session presentations taking place on the Main Stage, in Ballroom AB, will have captions provided on screen.
Online Experience: most sessions taking place online will have captioning, exceptions include virtual posters sessions.
Sign Language Interpreters
Interpreters are available for the Philadelphia Onsite Experience with at least 21 days' advance notice. Requests received after this deadline will be handled on a case-by-case basis. Please email us at [email protected] for assistance.
If you have any needs that are not covered by these services, we would be happy to work with you to find/provide adequate accommodations. Please email us at [email protected].
---
Mobility
Airport
Pennsylvania Convention Center
Scooters and Wheelchairs
Scooters and wheelchairs are available for rental from Scootaround. You can get information, view pricing, and make reservations on their website or by calling the convention customer service team at 888-441-7575.
Session Rooms
ADA seating areas will be available for all educational session rooms. Registrants with disabilities are given priority seating.
Hotels
---
Visual Impairments
On-site Assistance
With at least 21 days' advance notice, we can provide assistance to attendees who are blind or have limited vision. Requests received after this deadline will be handled on a case-by-case basis. Please email us at [email protected] for assistance.
Free Registration for Assistants
Free registration is available for assistants who are attending solely to support visually impaired attendees. To apply, please email us at [email protected].
Conference Agenda
Remediated, fully accessible versions of our agenda and conference guide are coming soon.
Online Experience
The online event platform is accessible and readable by screen readers.
---
Parenting/Maternity
Mamava Lactation Suite
These convenient on-site pods provide a private place for nursing mothers during the conference. The units are self-contained, mobile pods with comfortable benches, an electrical outlet and a door that can be locked for privacy. The 4-foot by 8-foot pod is meant for individual use, but can fit more than one person, including mothers with infants, breast pumps, or luggage. One is positioned near the Concierge Desk on the Convention Center's second level between Halls A and B and a second unit is located on the street level on the Broad and Arch Concourse.
Refrigerator storage is available in the First Aid Office, 300, 300 Level
---
Service Animals
Service Dog Relief Stations are located at the 12th and Arch and 13th and Arch building entrances of the Pennsylvania Convention Center.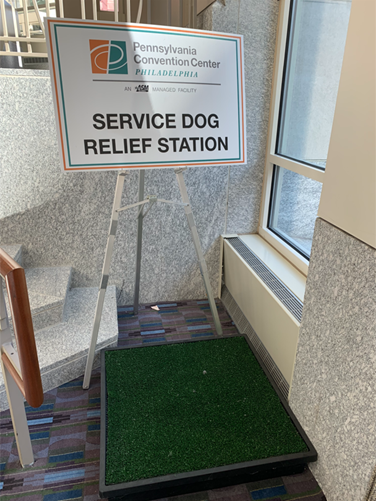 ---
All-Gender Restrooms
You'll find designated single-occupancy, all-gender restrooms throughout the conference venue.
---
Accessibility Resources for Presenters
EDUCAUSE has developed accessibility information for presenters, including a set of resources and best practices.
---
Affordability
Scholarships
Financial assistance is available to help with professional development, recognizing a combination of past achievement, personal and institutional commitment, potential benefit, and financial need. Learn more about scholarships→