Preconference Workshops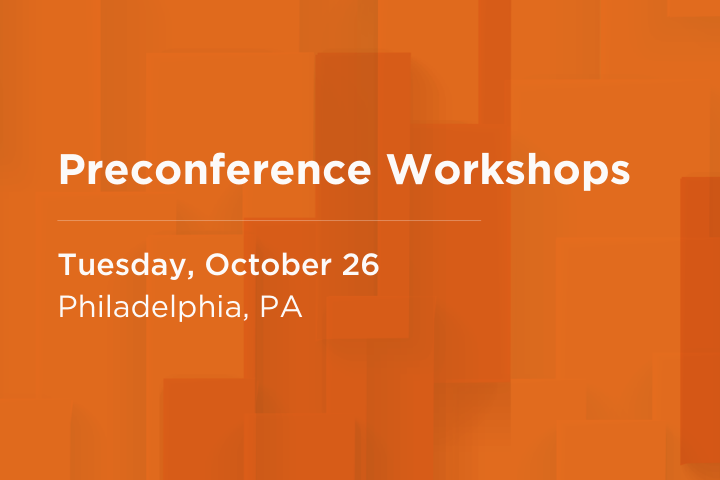 Preconference workshops will be held on Tuesday, October 26, in Philadelphia, and allow participants to spend more time with subject matter experts and colleagues to learn more about a specific topic. Workshops require registration but there is no cost. Attendance is limited to the first 60 who register.
Morning Workshops
The Digital Transformation of Higher Education: The Intersection of Technology, Data, and Student Success
Tuesday, October 26 | 8:00–11:30 a.m. ET | Philadelphia, PA
Blackboard will lead an interactive workshop assembling senior IT and academic leadership in higher education for a series of engaging and collaborative roundtable discussions. The digitization of our lives, from banking to entertainment, has fueled a rise in the use of data to customize experiences through proactive nudges and behavior-based suggestions getting us to buy, act, and watch. Today, higher education has an opportunity to tap into the digital engagement powering personalized experiences that help students succeed on their learning journeys. But supporting student success at scale isn't simple. From culture to cost, barriers to digital transformation can keep institutions from driving innovation on campus. Dive deep as we examine opportune topics, highlighting strategies for making meaningful impacts on student success through the transformative power of data and technology. This workshop brings a unique opportunity to gather with peers to actively discuss in-depth approaches to challenges and opportunities for growth, including insights from a leader in higher education on transforming student success through integrated data and support services across their institution. We will examine the following topics and their impact on student success, facilitating discussions that include peer insights, collaborations, and takeaways to lead innovation and student success on campus and beyond:
Leading transformation across the institution
Improving analysis of student data through technology
Leveraging predictive analytics for student success
Integrating virtual student support and tech-enabled systems to drive retention
An industry and campus workshop.
So, You Know You Need a CRM. Now What?
Tuesday, October 26 | 8:00–11:30 a.m. ET | Philadelphia, PA
Expectations of higher education institutions are changing fast, and the time has come for colleges and universities to radically change the ways they engage, collaborate, and communicate with constituents. A CRM establishes the digital foundation for a connected experience by creating a consolidated view of every constituent and providing a platform to manage day-to-day student activities and interactions. For student success, enrollment, marketing, and IT leaders, this workshop will help you get your arms around what's happening with CRM at your institution. We'll feature customers who have realized success with Salesforce and provide a means to collaborate and learn in an interactive workshop setting. Workshop participants will explore different approaches to starting with CRM or expanding their CRM footprint, ways to get unstuck, and how to achieve your goals and accelerate your path to value. All attendees will receive resources, best practices, and next steps. We'll discuss implementation and integration strategies and best practices. Get your arms around what's happening with CRM at your institution and how to create a consolidated view of every constituent and their day-to-day interactions with your campus.
An industry and campus workshop.
Thinking Out Cloud: Level Up in the Cloud at Your Institution
Tuesday, October 26 | 8:00–11:30 a.m. ET | Philadelphia, PA
Higher education leaders tell us they trust the cloud for storage and backup but that they would like to be doing much more with their infrastructure. Join us to hear from Oklahoma State University–Oklahoma City and Arizona State University. Dive into the details of higher education challenges and learn how cloud-based solutions can help address your institution's most pressing challenges while helping save costs. For example, discover how innovative institutions use artificial intelligence and machine learning to make smart use of their data to increase student engagement and retention.
Discover which systems and solutions that you're already using are in the cloud
Understand common higher education challenges the cloud can help address now
Take home actionable next steps for your institution
An industry and campus workshop.
Full Day Workshops
A Journey Through the Campus of Tomorrow
Tuesday, October 26 | 8:00 a.m.–4:00 p.m. ET | Philadelphia, PA
Dive into the needs and functionality for hybrid and blended classes with Zoom as we embark on this next phase of education. In this workshop you'll journey through different spaces on campus and design next-generation hybrid learning spaces, understand how Zoom integrates across existing workstreams, and explore funding resources that can ignite your connected campus of the future. Throughout the day, you will gain a deeper understanding of how to maximize engagement in video-first learning environments, as well as how hardware partners fit into this approach. In breakout groups, you will work with fellow educators to design hybrid learning environments that work for all types of learners. We will also brainstorm ways available funding can propel your hybrid learning goals, as well as investigate how your institution and academic community can work to increase digital literacy and close the digital divide. At the end of this workshop, you will leave with a roadmap to kickstart the next phase of your hybrid education ecosystem.
An industry and campus workshop.
IT Accessibility: Strategies to Grow, Lead, and Advise Inclusive Digital Campuses
Tuesday, October 26 | 8:00 a.m.–4:00 p.m. ET | Philadelphia, PA
Digital accessibility—ensuring equal electronic access to those with disabilities—is critical for an inclusive modern campus, but valuing accessibility and ensuring it is prioritized and implemented are different, especially with many competing priorities. Higher education accessibility programs face rising expectations to meet legal requirements, as well as student and staff expectations. Learn from experienced accessibility experts about the role IT leaders can play in supporting and expanding inclusive, strategic accessibility initiatives. This session is designed to inform and engage campus leaders in ways to support and grow inclusive campuses. Topics include technologies that drive and enable accessibility from the start, legal and policy implications, campus leadership and governance, models to benchmark and evaluate your own campus's accessibility maturity level, inclusive and accessible classrooms, purchasing accessible technologies, assembling expert teams, growing volunteer networks, and more!
An industry and campus workshop.
Network Infrastructure and Security Strategies for Hybrid Learning and Digital Living
Tuesday, October 26 | 8:00 a.m.–4:00 p.m. ET | Philadelphia, PA
Institutions are under constant pressure to support increasing technology demands for operational, academic, student-experience, and administrative tasks. SIS, LMS, student lifecycle systems, network management, digital curricula, and context-aware services are all moving to the cloud. Internet of Things (IoT) devices are flooding into labs, buildings, and research facilities, forcing IT to find better ways to secure communications. Students are bringing more IoT devices into campus housing and are using more devices in class, for remote learning, and constant collaboration. Meanwhile, IT is being asked to support hybrid and HyFlex learning modalities. Furthermore, as the attack surfaces grow, colleges and universities must address student safety and data security, as well as prevent cybercrime and protect intellectual property. In this session facilitated by Aruba experts, you will hear from fellow network architects at Chapman University, Indiana University, Rollins College, and University of Nebraska about strategies to address the increasing IT complexity and tackle long-term technology infrastructure planning as students return to campus. Bring your questions about Wi-Fi 6/6e, outdoor classrooms, campus housing connectivity, and network security concerns. Breakout sessions will allow for in-depth discussions and peer networking. Guest speakers include Aruba's CTO office members Chuck Lukaszewski, Wireless Chief Technologist, and Jon Green, Security Chief Technologist.
An industry and campus workshop.
Anti-Racism in Academia (ARiA): A Learning Journey
Tuesday, October 26 | 8:00 a.m.–4:00 p.m. ET | Philadelphia, PA
Experience a one-day version of the well-known signature program (#ROLLAP) from Anti-Racism in Academia (ARiA) and immerse yourself in a facilitated discussion outlining an actionable approach to leading change from where you are. Participants will engage in frank, small-group discussions designed to better understand racism issues, examine their own biases, and think critically about effective ways to build a more inclusive culture in academia. For more information on this program, see https://ariajourney.org/.
Afternoon Workshops
Building Your School's Guide to the Ethical Use of Student Data
Tuesday, October 26 | 1:00–4:00 p.m. ET | Philadelphia, PA
Ethical use of student data is on everyone's mind. Join a fictional university for a few hours and take a journey through the ins and outs of the ethical use of data, including the consequences of inaction. Leave with concrete frameworks and next steps to apply at your university or college.
An industry and campus workshop.
Build a Zero Trust Identity Access Management and Governance Roadmap for Your Institution
Tuesday, October 26 | 1:00–4:00 p.m. ET | Philadelphia, PA
While universities and colleges struggle to keep pace with a surge in cybersecurity attacks, many are seeking advice on how to implement zero trust security models while modernizing identity access management and governance programs. Join Hitachi ID and Identity Works for guidance on how to do both—generate a zero trust identity access management and governance assessment, and develop a roadmap outline that protects your institution. This workshop is ideal for you if you are designing the information security strategy and program for your institution and typically hold a director level (or above) title. It is an ideal time investment for multiple participants from one institution to work collaboratively on a strategy for their institution.
Learn how a zero trust security model can reduce cybersecurity risk and protect your institution
Work through the 10-step identity access management and governance assessment
Gain firsthand knowledge about which roadmap strategies work and which quick wins offer visible results
Produce a roadmap outline for your institution
An industry and campus workshop.
Cybersecurity and Business Continuity: Protecting Your Institution's Infrastructure, Data, and Reputation
Tuesday, October 26 | 1:00–4:00 p.m. ET | Philadelphia, PA
One situation all IT leaders dread is receiving notice from a nefarious actor who has infiltrated an on-premises data center and is holding data for ransom. Ransomware is top of mind for academic institutions, along with the priorities of disaster recovery and business continuity. Whether the threat is from a natural disaster, technical failure, or malicious action, your team needs to ensure the security of your campus and research and then be prepared to recover from an outage. Washington University and the University of California San Diego Health will share their cybersecurity strategies and architecture so we can learn from their experience. Join us to see how cloud-based security can help your campus get ready to mitigate disruption in a fast, reliable, and cost-effective way.
Discover common higher education security challenges
Understand the benefits of cloud security compared to on-premises approaches
Take home actionable next steps for your institution
An industry and campus workshop.