Advertise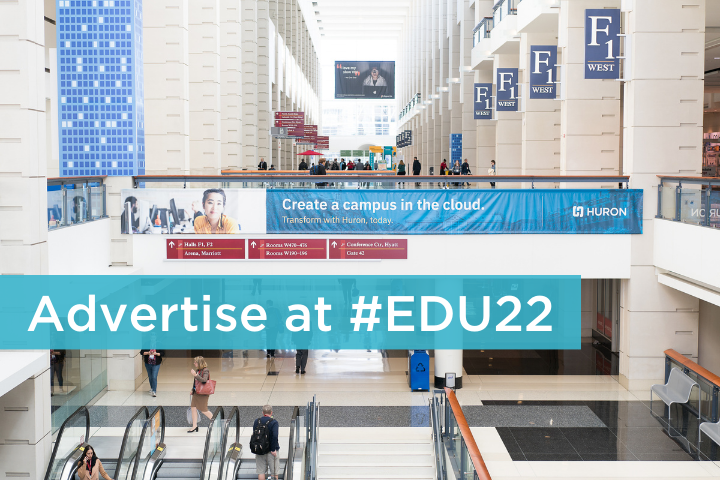 Extend your brand's reach before, during, and after EDUCAUSE 2022 by taking advantage of various advertising opportunities that fit your company's marketing strategy and budget. Opportunities to do so at this year's event include:
Plus, you can begin promoting your participation now through EDUCAUSE advertising opportunities like display advertising or ad retargeting. Learn more about other opportunities.
---
Preconference Communications | (In August)
Take advantage of exclusive advertising in targeted messages to thousands of leaders and professionals in three key EDUCAUSE communities: Teaching and Learning, Information Technology, or Cybersecurity and Privacy. View an example.
Benefits include:
Your company logo and unique URL
Brief sponsor message (25–30 words max) where you can describe your services and solutions, provide a special offer, or let folks know how to find you at EDUCAUSE 2022
Act fast, as these communications will be sent in August.
Pricing
Opportunity
Price
Teaching and Learning Targeted Message
$4,500
Information Technology Targeted Message
$4,500

Sold

Cybersecurity and Privacy Targeted Message
$4,500

Sold
---
Banners and Escalator Runners
Located in highly visible areas of the convention center, banners and escalator runners are a great way to promote your company's products and services, generate brand awareness, and drive attendees to your booth.
Included in the cost is banner production, hanging, and teardown.
View opportunities available, then visit the Shopping Cart to make your purchase. If you have questions, please contact our Corporate Team.
---
Other Advertising Opportunities with EDUCAUSE
Start promoting your presence at the annual conference today by taking advantage of EDUCAUSE advertising opportunities. Some of the opportunities available include:
Display Advertising: Launch your ad campaign on some of our busiest web pages, which attract nearly two million visitors per year.
Ad Retargeting: Broaden your brand's reach and influence by advertising to EDUCAUSE website visitors anywhere they visit online.
Content Alerts: Secure a highly visible ad placement in weekly email alerts
Targeted Newsletters: Gain repeat exposure of a relevant thought leadership piece in a targeted newsletter of your choice: CIOs & Senior IT, Teaching & Learning, Information Security, Information Technology, or Campus Monthly.
Seen by thousands of leaders and professionals across higher education, EDUCAUSE advertising opportunities are quick and easy ways to reach your audience and gain exposure for your offerings at the main event. To develop a plan, please contact us at [email protected]. (These opportunities are not available in the EDUCAUSE 2022 Shopping Cart.)
Already Participating?
Visit the Corporate Resource Center for all the details you need to prepare.
VISIT CORPORATE RESOURCE CENTER
EDUCAUSE Membership
EDUCAUSE members receive special pricing on all of our events, sponsorships, exhibits, and more. Learn more about the benefits of membership.