Exhibit Information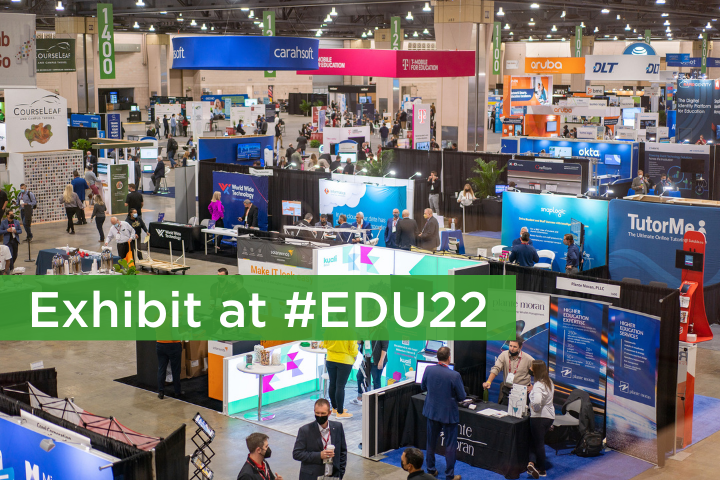 We're thrilled to have the following companies join us in the #EDU22 exhibit hall. View this year's exhibit hall floor plan to learn more.
---
Booth Information
Please note: The EDUCAUSE 2022 exhibit hall is sold out and our waitlist is full at this time.
Due to high demand, we are no longer adding companies to this year's waitlist.
Are you with an emerging edtech company? Learn more about Start-Up Alley at EDUCAUSE 2022.
Selection Process
Initially, booths were offered to 2021 EDUCAUSE Annual Conference exhibitors based on cumulative participation.
Next, current EDUCAUSE members are offered an opportunity to secure booth space.
After members are offered booths, we extend offers to those on the waitlist in the order in which requests are received.
Finally, if booths are still available, they are offered on a first-come, first-served basis.
Inclusions
7" × 44" identification sign with company and booth number (inline booths only)
Pipe railing, 8'-high curtain back wall, and 3'-high curtain side rails (inline booths only)
Five exhibitor registrations per 10' × 10' booth space for access to the exhibit hall and refreshment breaks held in the exhibit area*
Standard listing in the exhibitor directory
Access to one complimentary (opted-in) attendee address list for sending an approved one-time promotional piece
Booths Do Not Include
Storage, placement, shipment, or return shipment of exhibit materials.
All services and items for the booth, including but not limited to, required carpet/flooring, electric, internet, furnishings, lead retrieval, etc.
Internet—complimentary wireless access is not available in the exhibit hall (all internet needs must be ordered).
Full conference registrations for access to educational sessions or other networking opportunities.
Lunch. In order to provide lower registration fees, lunch will not be provided onsite for any registration type.
*Complimentary exhibitor registrations must be processed in advance, by 11:59 p.m. ET on October 20. Any exhibitor registrations completed after this date and time (including on-site registrations) will be charged the $169 registration rate, even if your allotment hasn't been used. There are administrative costs to process registrations after October 20.
Pricing
Booth space size begins at 10' x 10' and is available in larger increments of 10'.
Booth Size
Member Rate**
Non-
member Rate
Booth Size
Member Rate**
Non-
member Rate
10' × 10'
$5,250
$8,750
20' × 30'
$31,500
NA
10' × 20'
$10,500
$17,500
20' × 40'
$42,000
NA
10' × 30'
$15,750
NA
30' × 30'
$47,250
NA
20' × 20'
$21,000
NA
30' × 40'
$63,000
NA
**Member pricing assumes company is a member at the time of booth selection and at the onset of EDUCAUSE 2022. The EDUCAUSE membership year runs from July 1 to June 30 of the following year. If membership dues are not paid prior to EDUCAUSE 2022, the difference between the member and nonmember rate must be paid by the exhibitor, prior to setup at the conference. Dues for the current and next membership period as well as benefits can be found at EDUCAUSE Corporate Membership.
Cancellation Policy
Exhibitor may cancel this contract at any time. Exhibitor understands and agrees that EDUCAUSE will incur damages from the Exhibitor's cancellation or downsizing. In order for cancellation to be effective, EDUCAUSE must be notified in writing. Cancellation fees will be based on the date that EDUCAUSE receives written notice.
Exhibitor agrees to the following refund schedule for 2022:
February 1–28: 50% refund
March 1–31: 40% refund
April 1–30: 30% refund
May 1–31: 20% refund
On or after June 1: No refund
---
Exhibit Schedule At-a-Glance


Dates/Hours

Setup (Move In)

8:00 a.m.–5:00 p.m. on Sunday, October 23–Tuesday, October 25

Show Hours

Wednesday, October 26 | 10:15 a.m.–5:00 p.m.

Thursday, October 27 | 10:15 a.m.–4:00 p.m.

Teardown (Move Out)

Thursday, October 27 | 4:00–8:00 p.m.

Friday, October 28 | 8:00 a.m.–2:00 p.m.
---
Interested in Participating or Have Questions?
Our Corporate Team is ready to help you meet your goals. Contact us today to learn more about #EDU22 and how you can participate.
Housing and Attendee List Advisories
Maritz Global Events is the only official housing bureau for the EDUCAUSE Annual Conference—housing will open along with registration in June.
EDUCAUSE does not sell or permit the selling of attendee lists.
Third-party housing and marketing agencies unaffiliated with EDUCAUSE may contact you as an exhibitor. View Event Housing and Attendee List Advisories for more information regarding housing and registration poachers or to report unauthorized solicitations.
A full list of official show vendors will be available in the Corporate Resource Center in July.