First Time at the EDUCAUSE Annual Conference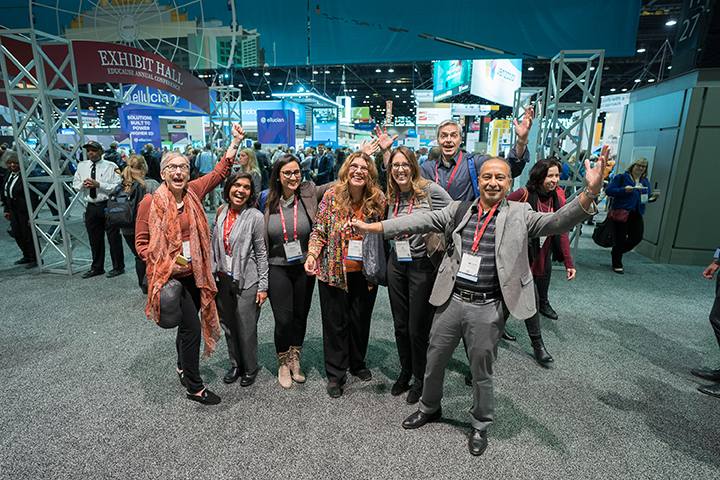 If this is your first time attending the EDUCAUSE Annual Conference or it's been awhile since you've attended, we've put together some tips and tricks to help you make the most out of your conference experience.

Before the Conference: Prepare for Arrival
Review the EDUCAUSE Annual Conference 2022 Newcomers: Know Before You Go webinar recording. View it now to learn more about what you can expect at the conference and how to have the best experience.
Download the EDUCAUSE Events mobile app.
This will be your go-to guide for everything you need to know to navigate the conference including the sessions, schedule, venue maps, exhibitor directory, networking opportunities, and so much more.
No printed conference program will be provided onsite—download the app for access to all program and event details.
Prepare to Seek out a Conference Connector experience in Denver
EDUCAUSE Conference Connectors are a diverse pool of members who have previously attended an EDUCAUSE Annual Conference, demonstrate extraordinary enthusiasm for the annual conference, and are willing to dedicate time to help first-timers at this year's conference feel welcome and engaged. Interested in becoming a Conference Connector? Learn more here

about becoming a Conference Connector

.
---

At the Conference: Suggested Activities and Sessions
Join us for a venue tour at the Colorado Convention Center

Need help getting the lay of the land? Join us for a venue tour on Tuesday, October 25 at 4:15 p.m. It's a great way to meet both first-time attendees and experienced participants that can help you connect with your community.

The tour will begin at the conference Information Desk located in Lobby F (go to the "Blue Bear" entrance, and the information desk is just past the main badge pick up area).

Stop by the Information Desk to Sign Up for a Conference Connection experience:

An EDUCAUSE Conference Connectors is a member who demonstrates extraordinary enthusiasm for the Annual Conference and is willing to dedicate time to help first-timers at this year's conference feel welcome and engaged.

Conference Connectors have previously attended the EDUCAUSE Annual Conference and are standing by to help you navigate your first one. Stop by the Information Desk to sign up for a Conference Connector experience, including:

Touring the exhibit hall

Participating in a shared meal or networking event

Attending a session as a small group and debrief afterwards

Booking a Braindate directed at first-timers

Make plans to see the exhibitors showcasing their products and services. The conference exhibit hall features exhibitors who specialize in providing the latest campus technology solutions for the higher education community. In addition to exhibits, numerous activities take place in the hall, including Start-Up Alley, EDUCAUSE Central, refreshment breaks, poster sessions, and so much more!

Wednesday, October 26 | 3:00–5:00 p.m. | Exhibit Hall B-E, Exhibit Level
Join your colleagues for an informal gathering with drinks and hors d'oeuvres in the exhibit hall. During this time, you can also engage with industry experts and learn about exciting technology solutions for your campus.

Book a Braindate

You are attending the EDUCAUSE Annual Conference to meet great people and learn new things that can help you address the current challenges facing higher education IT. One of the best ways to do so is to connect with the right professional peers and corporate partners and have meaningful conversations about topics that are relevant to you. Book your braindates→

Visit EDUCAUSE Central

Stop by EDUCAUSE Central to explore and learn the latest about major EDUCAUSE initiatives related to technology trends and issues, research, student success, strategic planning, DEI and professional learning. While you're there, you'll be able to engage in fun activities – including the return of the wildly popular "The Survey Says!": EDUCAUSE Technology Feud in the EDUCAUSE Central Theater.

Explore the Suggested Itineraries

Below are some suggestions for your schedule created from community members who share these interests and/or roles. Hopefully you find their crowd-sourced advice useful when choosing how to best spend your time in Denver:

Itineraries coming soon!
---

✓ Download the mobile app—you will need it to:
View the sessions and schedule (a printed program will not be provided)

View the venue maps

Access the exhibitor directory

Connect with other attendees

Book braindates

Receive important event notifications

And so much more!
✓ Give yourself permission to unplug from the office for a while
Do yourself a favor and don't sequester yourself during every break to respond to emails. Use the mobile app to see who's onsite, how you can connect, and what you can learn from each other. Book a braindate to learn from your peers. Arm yourself with business cards for quick number exchanges (or use the mobile app "shake" feature), and customize your name badge with stickers for informal hallway conversation starters.
✓ Ask Questions
Staff are available at the conference Information Desk, Lobby F, and throughout the venue to assist you. Don't waste time struggling to figure out what you're looking for or where to go. Just ask. (Pssst..we've got you covered. You can even text us your questions during business hours at 1-833-921-5622).