Call for Proposals
Presenting at the EDUCAUSE Annual Conference provides an opportunity to build your professional network and experience lifelong learning with lifelong friends. Presenting a content-rich session individually or as part of a team is a wonderful way to share knowledge, experiences, and ideas. The conference's community-generated program will showcase future directions, best practices, stories of successful collaborations, lessons learned, and solutions to community-wide issues within various program tracks. We welcome your submission! Please read this page carefully before you begin work on your proposal.
Ready to get started? Just follow these simple steps for submission:
Find out how to create an excellent proposal by reading this page and the helpful tips in the EDUCAUSE Presenter Concierge pages.
Develop a proposal in one of the program theme/focus areas. For a sneak peek of the CFP submission form and to share for collaboration, you may download or copy and share this Annual Conference 2021 Sample CFP Submission Form.
Choose a presentation format. If you are a corporate participant, please be sure to read through the new process for 2021.
Submit your proposal between April 15 and May 10. Submitters will be notified about decisions in late July.
Please note: We are encouraged by recent news of increased COVID vaccine deployment and continued community feedback about excitement to return to in-person events. As such, we are planning for and excited to welcome attendees to our in-person and online annual conference in October 2021 while acknowledging the complexities of planning a safe and effective in-person, indoor conference that meets new and emerging local, state, and federal regulations.
Conference Program - Themes, Topics, and Keywords
Themes: These are general topics of interest, including the big-picture issues we are tackling across higher education.
Common Good: Including DEI, social justice, accessibility, social responsibility, community engagement, partnerships & collaborations, and environmental sustainability
Resilience: Including recovery, continuity, sustainability, adaptability, and affordability
Transformation: Including digital transformation, innovation, and cultural, personal, and organizational change
Topics: These are more refined topics of interest or audience-specific issues. These are akin to our traditional program tracks and topics we see discussed by our communities of practice.
Teaching and Learning
Leadership and Future Workforce
Cybersecurity and Privacy
Student Engagement and Success
Innovation and Emerging Technologies
Higher-Performance Computing and Libraries
Infrastructure and Networking
Policy and Law
Other
Keywords: These are areas of specific interest and will help attendees fine-tune their personalized schedules.
Delivery Choices
Please note that your proposal will be carefully evaluated and may be accepted for any of the formats below, depending on the scope of content and engagement strategies proposed. If you have questions, please contact Sarah Reynolds, speaker liaison, or visit our Speaker Concierge resource page for presentation ideas and resources.
EDUCAUSE Annual Conference sessions are being planned for both in-person and online for 2021. Most session formats translate to both the online and face-to-face program, though program timing may differ based on the delivery format. Review the session formats carefully and note that although EDUCAUSE will make every effort to honor your preference for format, we reserve the right to assign both session format and delivery format based on space and program balance. All presenters, community members (including community group leaders), and corporate participants must go through the Call for Proposal process. This assures that all conference sessions are reviewed by peers and the EDUCAUSE Annual Conference Program Committee before being slotted into the program. Note: A limited number of corporate sessions will be accepted through the CFP process. For more information about sponsored content session opportunities, please contact our Corporate Team.
Session Formats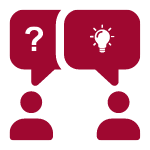 Facilitated Discussion
Discussion sessions are opportunities for event attendees to share campus challenges and solutions through conversational exchange. By actively engaging audience participants in dialogue about hot topics or broad issues, presenters of these sessions will rely on the collective community experience among session attendees. There is no room for "sage on the stage" in a facilitated discussion session; this is a chance to have organic, topically relevant, peer-to-peer learning experiences at the conference. Corporate participants: Please note that if your proposal is accepted, you will receive a notification from EDUCAUSE with next steps for confirming your presentation, and a fee will apply. You may have a maximum of two facilitators for this session type.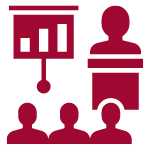 Presentation or Panel Session
These sessions are opportunities to share topics of interest, lessons learned, foresight, or evidence of impact related to a conference theme. Presenters, whether one person or a group, should include ways to actively engage the audience in the session, either digitally or in person. Panels should represent two or more opposing viewpoints for a lively group discussion. The best panels and group presentations have diversity in perspectives as well as diversity of panelists—organizationally and demographically speaking. Corporate participants: Please note that if your proposal is accepted, you will receive a notification from EDUCAUSE with next steps for confirming your presentation, and a fee will apply. You may have a maximum of four presenters/panelists for this session type.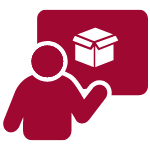 Product or Service Demonstration
This type of session works best if your primary objective is to offer a tour or provide an overview of an innovative product or service. Select this delivery format if you work on a campus and want to showcase a product or service you implemented, built, or created. This is a great way to tell your "it worked for us" story. Industry partners who would like to showcase a product or service should choose this option. Corporate participants: Please note that if your proposal is accepted, you will receive a notification from EDUCAUSE with next steps for confirming your presentation, and a fee will apply. Demonstration sessions will be separately promoted as solution sessions. You may have a maximum of two presenters for this session type.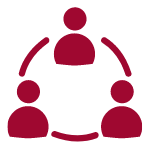 Community Group Meeting
These sessions are opportunities for individuals who participate in EDUCAUSE's 70 Community Groups to connect at the Annual Conference. These meetings can be structured as business meetings, social networking activities, discussions, presentations, or panels. These sessions should be submitted by Community Group Leads only. Corporate participants: Please note that if your proposal is accepted, you will receive a notification from EDUCAUSE with next steps for confirming your presentation, and a fee will apply. You may have a maximum of four presenters for this session type.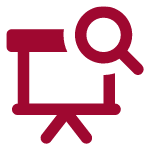 Poster
(Online Only for Corporate Participants)
Posters give participants and presenters the opportunity to share and examine problems, issues, and solutions in a casual, personal environment. These sessions are typically informal and interactive. Presenters will use a poster display for the on-site event or a recorded, on-demand session in the virtual event to demonstrate the features and functionality of the tool or program, as well as to provide a visual overview of the project. Presenters should also prepare a few introductory remarks to engage listeners in the subject. Corporate participants: Please note that if your proposal is accepted, you will receive a notification from EDUCAUSE with next steps for confirming your presentation, and a fee will apply. You may have a maximum of two presenters for this session type.
A Special Note to Our Corporate Participants
Our corporate community is welcome to submit proposals for any of the session formats listed in the CFP. This opportunity is a valuable way to showcase your industry expertise and develop meaningful relationships with hundreds in the higher education IT community. Your session(s) must meet all the criteria set forth by the CFP guidelines and will be subject to peer review for prioritized slotting. If accepted, a fee will apply. See more here.
To participate in this opportunity and get the most out of your time with us, please take note of the following:
Discussion, Presentation, Panels, and Poster Sessions: Your session should focus on a topic that positions your company as a thought leader. Topics should directly relate to a conference theme, and presenters should be non-sales-oriented subject-matter experts.
Product or Service Demonstration Session: Your session can explicitly showcase a product or service in your company's portfolio. Presenters can be a combination of thought leaders and sales-oriented experts; however, the session must be educational in nature and not a sales pitch.
At least one presenter in corporate sessions should be a higher education thought leader/subject-matter expert from a partner or client institution.
A limited number of industry and campus sessions are available. If your proposal is accepted, a fee will apply. For more information about sponsored content sessions, please contact our Corporate Team.
To be considered: Submit through the Call for Proposals by the deadline date. Selections will be made by the program committee based on the quality of the submission and the relevance to current community needs (requirements).
Selection Process
Proposals are selected to ensure the conference offers a comprehensive, non-promotional, objective, and diverse program. Proposals that clearly describe innovative and creative work will receive the highest priority in the selection process. Attention will be given to diversity of institutions/organizations, presenters, and geographic location. Note: You may be invited to present in formats other than the one you selected or those noted in the proposal submission form.
Proposals will be reviewed by the Annual Conference Program Committee and peer reviewers using the following criteria:
Relevance of Topic: Is the topic of relevance, importance, value, and/or interest to higher education?
Session Outcomes Achievability: Is there alignment between the stated session outcomes and the proposal description?
Presenter Knowledge: Does the presenter or presenters have sufficient knowledge, expertise, and authority to address this topic based on evidence provided in the proposal and/or prior experience with or knowledge of the presenter?
Diversity, Equity, and Inclusion: Does the proposal show how the session will reflect or address diversity, equity, and inclusion (including subject matter, individuals of all identities, and demographic characteristics)?
Guidelines for Submission
Profile Requirement: An EDUCAUSE Profile is required in order to submit a proposal, present, and register for the event. Please take some time before submitting a proposal to ensure all presenters have profiles and that all information is updated (title, profile picture, bio, etc.). You can search here; if presenters don't have a profile they will need to create one so you're able to add them within the submission site. Note: Profile information will help reviewers and attendees understand a presenter's qualifications.
Presenters and Registration: All accepted presenters are responsible for registering and paying for the conference by the early-bird date. Please plan accordingly before submitting your proposal. We have a limited number of event scholarships and speaker discounts. More details about both program options will be shared when session acceptance letters are sent. We cannot pay an honorarium or expenses for presenting; however, we hope that the intangible benefits of being a part of our educational programming make the effort worthwhile for presenters.
Presenter Commitment: Do not list co-presenters without their commitment that they will participate and that they agree to the terms and conditions for participation.
Acceptance notifications will be sent in late July 2021.
All selected presenters must complete speaker agreement forms in order to be confirmed for a session.
Proposal submission topics cannot be changed after the review and selection process.
EDUCAUSE reserves the right to revise presentation titles and/or edit the session description for program publications.
Session Resources: Presenters will be required to upload their presentation and supporting materials and resources prior to the conference. If selected, you will be provided with further instructions on uploading your presentation materials.