Diana G. Oblinger Innovation Forum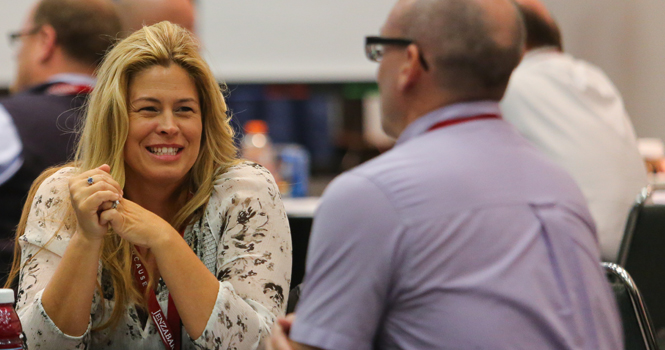 Leading Academic Transformation in Support of Student Success
The second annual Diana G. Oblinger Innovation Forum will take place on Tuesday, October 31, at the 2017 EDUCAUSE Annual Conference in Philadelphia, Pennsylvania, from 8:00 a.m. – 4:00 p.m.
The 2017 Innovation Forum examines the complex intersection of academic transformation and student success—where leadership, technology, and innovation can power institutional change. The full-day program is designed for two-person teams of senior leader partners working across sectors in their institution's student success initiative.
Participating teams will receive:
A unique opportunity to reflect on and improve the student experience together
An understanding of the principles and value of user-centered design and how to make it work for your campus
A venue to meet others working on similar initiatives, including experts who specialize in higher education student success
Curated content and access to related sessions, speakers, and solution-providers within the program of the EDUCAUSE Annual Conference, higher education's premier IT event (additional registration required)
One complimentary registration to the Innovation Forum for each team.
EDUCAUSE and its Board of Directors believe building partnerships that strengthen the student experience is critically important to the future of higher education. For this reason, the registration fees for the 2017 Innovation Forum were intentionally kept low to enable participation from a diverse range of institutions.
Program Agenda
Time
Agenda
8:00 a.m.
Breakfast
8:30 a.m.
Welcome and Introductions
John O'Brien, President and CEO, EDUCAUSE
8:45 a.m.
Setting the Context for Student Success
9:15 a.m.
Redesign the Student Experience
Holly Morris, Principal, Summit Strategies
12:15 p.m.
Lunch
1:30 p.m.
Ensure Successful Initiatives
Cole Clark, Executive Director, Higher Education Client Relations, Deloitte
Allan Ludgate, Managing Director, Monitor Institute, Deloitte
Bryan Setser, Entrepreneur in Residence, rpkGROUP
Rick Staisloff, Principal, rpkGROUP
3:30 p.m.
Focus Forward
Susan Grajek, Vice President for Communities and Research, EDUCAUSE
4:00 p.m.
Adjourn
Preconference Preparation
Participation onsite in Philadelphia is required. Please schedule your travel so you can attend the forum from 8:00 a.m. – 4:00 p.m. on Tuesday, October 31.

After registering, your team will be asked to answer a quick three-question survey about your student success initiative to inform program planning.

Each member of your team is required to interview three students; process inquiries with personnel will also be helpful. EDUCAUSE will provide guidelines and questions to support your preparations.

Your team will also receive reading materials ahead of time.

Questions? Please contact Sondra Smith, EDUCAUSE Director of Special Projects.