Presenter Resources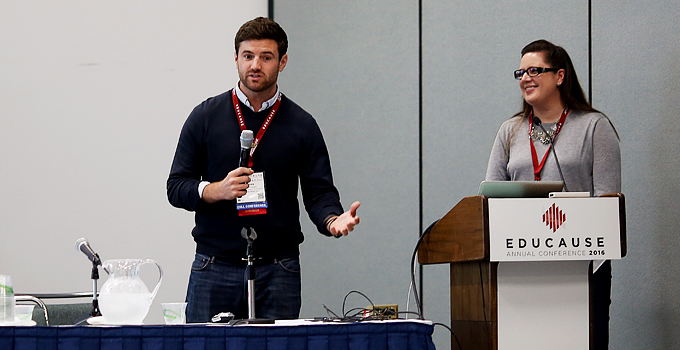 This page contains information and resources to assist you as a presenter at the EDUCAUSE Annual Conference. If you do not find an answer to your question, please contact us.
General Information for All Presenters
Poster Session Presenter Information
Q: What will my area look like?
A:
The standard set includes a 4'x8' bulletin board. Push pins, scissors, tape and other supplies available at the check-in desk. Upon request we can also provide a table for your laptop.
You may opt to bring a laptop as an additional resource for your session time. However, there will be no AC outlets, equipment security, or storage available when you are not present.

+ MORE
- LESS
Corporate (Purchased) Session Presenter Information
Q: Could you explain what each suggested "Session Format Type" means?
A:
Industry and Client-Led Session
This session is a presentation given by a client of a corporation (at least one higher education institution required). A subject matter expert from your corporation is present to add to the discussion. Your client will demonstrate the benefits your company's solutions have had on campus, enabling them to speak to general benefits for other campuses. Q&A provides for valuable interaction between the client/corporation and the audience.
Industry and Campus Hot-Topic Panel
This session consists of a panel of three subject-matter experts (at least one institutional representative is required) and a moderator. The topic should address a hot topic of key interest to higher education; emerging trends; research; and strategies, technologies, and business offerings.

+ MORE
- LESS
Q: What are the guidelines for my session?
A:
Applies to All Purchased Corporate Session Types
See the top 10 issues on recommendations for topics.
Session is designed to bring together corporate and institutional thought leadership communities, facilitate intentional dialogue, bridge R&D, and promote product development. The purpose of the session is not marketing or sales.
Eliminate company background information, marketing, and sales speak. This type of information should be provided through on-site collateral.
Focus on thought leadership and advancing the needs of higher education.
Ask participants about their needs and keep the session interactive.
Presentation materials and discussion notes should be captured and shared as a session resource.
Applies to Corporate and Campus Hot Topic Panels
Keep the sessions interactive (moderator takes questions from the audience); ask participants about their needs.
Panel moderator should be energetic and ensures that no one panelist is dominating.

+ MORE
- LESS
Q: What is the development and review process for my corporate presentation?
A:
Please adhere to the session format and guidelines for your session type and take advantage of the resources available to you for designing and delivering an engaging presentation.
Your session description (title, 50-word abstract, speaker info, domain, and three outcomes) will be submitted to your speaker liaison, Breanne Maxim, for review and approval by EDUCAUSE. Only submit a complete description so it can be reviewed as a whole; do not send information piece-by-piece.
If revisions to your description are requested, you will have one opportunity to make the suggested revisions and resubmit for approval. If the description needs further revision after that, EDUCAUSE will rewrite/edit it for you (this is to avoid several back-and-forth revision attempts).
Once approved, your session day and time will be slotted based upon the topic and how it best fits within the overall conference program.

+ MORE
- LESS
Orientation Session for Presenters
A speaker orientation session will be scheduled for all presenters in early October. Topics will include basic conference information, as well as logistical information for concurrent and poster session presenters.