Booth Regulations, Inclusions, and Additional Details
---
EDUCAUSE 2022 Rules and Regulations

Exhibitors are responsible for ensuring that their booths meet the EDUCAUSE 2022 booth exhibit specifications. Please review the EDUCAUSE 2022 Rules and Regulations for important guidelines regarding your booth.
---
Booth Design Deadline | September 9
If you have a booth space that is 400 sq. ft or larger, you must email your booth design to our Corporate Team no later than September 9. Our team will review your submission and will notify you either that changes are needed or that your design has been approved. Please do not ship your booth structure until approval has been received.
Not sure what to submit? View the images below, which showcase details needed for approval.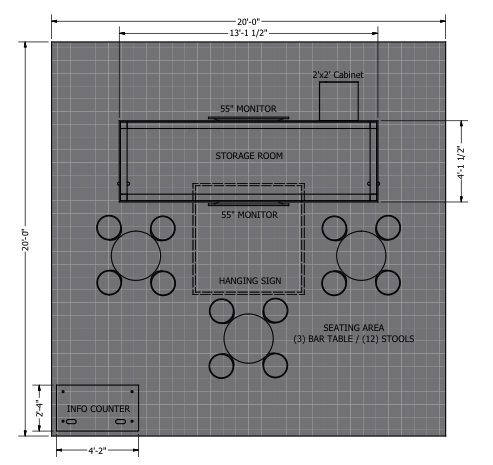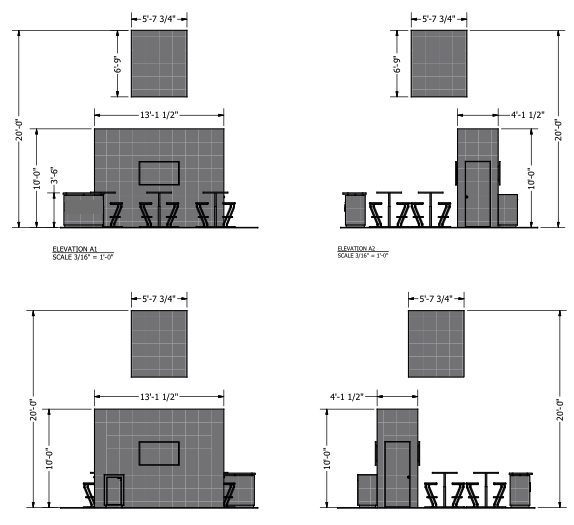 ---
What Is (and Isn't) Included with Your Booth
Booth inclusions:
Five exhibitor registrations per 100 sq. feet of exhibit space (a 10' x 10' booth is 100 sq. ft).*
Standard listing in the exhibitor directory.
Access to one complimentary attendee address list (less those that opt-out) for sending an approved promotional piece (no telephone solicitation). Please refer to the Attendee Lists & Promotions section for details.
7" x 44" identification sign with company and booth number (inline booths only).
Pipe railing, 8'-high curtain back wall and 3'-high curtain side rails (inline booths only).
Booths do not include:
Storage, placement, shipment, or return shipment of exhibit materials.
All services and items for the booth, including but not limited to, required carpet/flooring, electric, internet, furnishings, lead retrieval, etc.
Internet—complimentary wireless access is not available in the exhibit hall (internet must be ordered).
Full-conference registrations. (Any exhibit personnel who wish to attend sessions or other event activities are required to pay the appropriate conference registration fee.)
Lunch. Lunch will not be provided on-site for any registration type. There are concessions within the convention center and several local food outlets available nearby.
* Important reminders:
Complimentary exhibitor registrations must be processed in advance, by 11:59 p.m. ET on October 20. Any exhibitor registrations completed after this date and time (including on-site registrations) will be charged $169, even if your allotment hasn't been used. (There are administrative costs to process registrations after October 20.)
Through August 8, any additional exhibitor registrations over your complimentary allotment will cost $129. After this date, the rates will continue to increase as we get closer to the show date. View pricing tiers.
---
Booth Orders
All services and items for your booth must be ordered and paid for through the appropriate supplier, including:
Carpet/flooring
Electrical
Internet
A/V
Please refer to the Contract Services section for additional details and deadlines. You'll also find the complete timeline and key dates in the Timeline/Key Dates section.
Complimentary wireless access is not available in the exhibit hall. All internet needs must be ordered through SmartCity, the Colorado Convention Center's exclusive provider.
New: Serve Food and Beverage at Your Booth

To help drive traffic to your booth, EDUCAUSE 2022 exhibitors will be allowed to order food and beverages to be served at your booth.* An event menu and additional details are available here!
* Service must remain within the confines of your assigned booth space (service equipment is not permitted in aisles). Food and beverage orders must be submitted to the convention center by October 17.
---
Exhibitor Appointed Contractors (EACs)
Security is tight and only those who have been pre-approved will be allowed into the exhibit hall.
EDUCAUSE must be notified 35 days prior to the first day of exhibitor move-in if you intend to use an Exhibitor Appointed Contractor other than Freeman to supervise your booth install and dismantle.
To do so, please complete a Notification of Intent to Use an Exhibitor Appointed Contractor form by September 16, 2022. A certificate of the EAC's General Liability Insurance must be included, naming EDUCAUSE and/or Freeman or the convention center as additional insured.
You must also email your EAC proof of insurance to the EDUCAUSE Corporate Team 35 days prior.
EACs will receive temporary setup and teardown wristbands from security. If contractors need to access the exhibit hall during show hours, they need to be registered as Exhibit Hall Staff.
Visit Exhibitor Registration and Housing for additional information regarding Exhibit Hall Staff registration.
---
On-site Contact
For the safety and security of your staff while on-site, please provide EDUCAUSE with the contact information of your on-site representative. To do so, complete this form by October 11.
This person will only be contacted if we have questions or concerns about your booth set-up or in the case of an emergency.